04may20:0023:00Shreya Ghoshal First Time with Symphony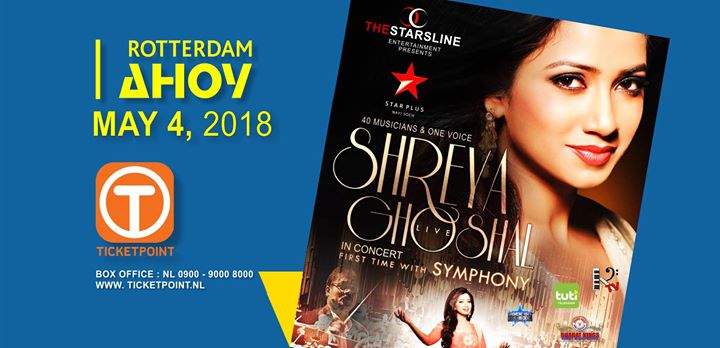 Event Details

40 MUSICIANS &1 VOICE

SHREYA GHOSHAL
FIRST TIME LIVE WITH SYMPHONY ORCHESTRA

A MUSICAL JOURNEY FROM LATA MANGESHKAR TO SHREYA GHOSHAL

The Starsline Entertainment is proud to present the new Nightingale of India, SHREYA GHOSHAL Live with Symphony Orchestra in Ahoy Arena Rotterdam.

In 2000, SHREYA GHOSHAL won the popular Indian Reality TV show, "Sa Re Ga Ma Pa", a platform for thousands of aspiring singers to exhibit their talent and where director Sanjay Leela Bhansali spotted her. A break in his film, "Devdas" fetched her a one-way ticket to Bollywood.

Since then, SHREYA GHOSHAL has grown into one of the most sought after female artists in Indian films with umpteen popular trophies as well as four National Awards in her kitty who regularly performs to packed houses all over the world. After amassing millions of fans, she recently also became the first Indian singer to be immortalized in the form of a wax statue at Madame Tussauds in Delhi.

With SHREYA GHOSHAL recreating her own hits and classics from the greats of yesteryear to the sounds of a Symphony Orchestra, this Concert is a must for all music lovers.

"I've done so many world tours, but none have come close to this one. I wanted to offer something unconventional to my fans. That's when I decided to have a grand symphony with strings, piano and a choir section along with my core band. I will present songs that I've recorded in the previous years. Songs by Lataji, Ashaji, Madan Mohan Saab, RD Burmanji, Salil Chowdhury and Laxmikant-Pyarelal are close to my heart. Music became my first love after I heard their tracks. It will be an honour to sing their songs live." – SHREYA GHOSHAL.

NEDERLAND
Shreya Ghoshal, de zangeres met de kristalheldere stem uit India, komt voor al haar fans naar Nederland op vrijdag 4 mei 2018! Ze komt samen met een 40-koppig symfonisch orkest om een spektakel te leveren in Rotterdam Ahoy.

Als kind won Shreya Ghoshal een populaire realityshow waarna de bekende music director Kalyanji haar onder zijn hoede nam vanwege haar buitengewone talent. Shreya Ghoshal werd door Kalyanji persoonlijk opgeleid in achttien maanden. Haar populariteit bereikte een nieuwe hoogte na Sanjay Leela Bhansali's film 'Devdas'.

Shreya is een nu al een grootheid in de Bollywood filmindustrie en haar stem wordt zowel door publiek als critici gewaardeerd. Ze heeft dan ook talloze awards gewonnen. Shreya heeft samengewerkt met alle populaire music-directors in de filmindustrie. Shreya Ghoshal is momenteel Bollywood's top playback-zangeres en haar aanwezigheid in de muziekindustrie is op het moment zo sterk, dat ze ongetwijfeld de nummer één zal blijven in de toekomst.
Time

(Friday) 20:00 - 23:00
Location

Rotterdam Ahoy

Ahoyweg 10