08sep(sep 8)22:0009(sep 9)07:00Afrojack 'No Place Like Home' 2018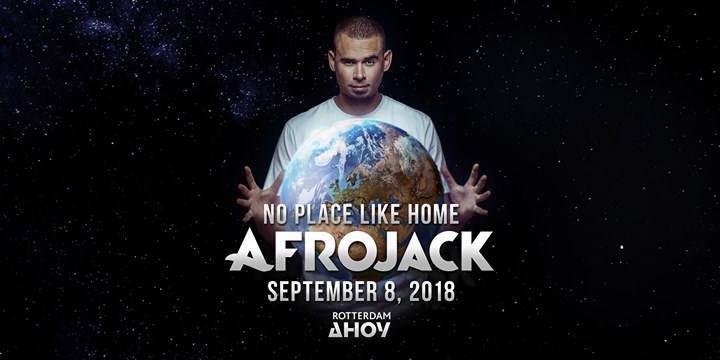 Event Details

Dj Afrojack heeft bekend gemaakt dat hij op zaterdag 8 september vervolg geeft aan zijn succesvolle spectaculaire show 'NO PLACE LIKE HOME' die vorig jaar voor het eerst plaatsvond in Rotterdam Ahoy. De dj, die al jaren behoort tot de beste dj's ter wereld en winnaar is van onder andere MTV Europe Music Awards, Buma Award, Billboard Music Award en een Grammy Award, werkt momenteel hard aan de gloednieuwe show in Rotterdam Ahoy. De show vorig jaar, om zijn 10-jarig jubileum en 30e verjaardag te vieren, was van begin tot eind een groot spektakel met sensationele support acts, vuurwerk, LED schermen en nog meer verrassingen. Op 8 september wordt Rotterdam opnieuw voor één avond overgenomen door Afrojack, bijzondere support acts en zijn fans. De support acts worden in aanloop naar de show bekend gemaakt via de social media van Afrojack, houd dus Afrojack op Instagram, Facebook en Twitter goed in de gaten!

Tickets zijn vanaf maandag 19 februari om 12:00u verkrijgbaar via : afrojack.com/tickets

Minimale leeftijd 18 jaar.
————————————————

DJ Afrojack announced today that on September 8th he will continue his successful spectacular show 'NO PLACE LIKE HOME', which took place for the first time in 2017 in Rotterdam Ahoy. The DJ, who has been one of the best DJ's in the world and is winner of MTV Europe Music Awards, Buma Award, Billboard Music Award and a Grammy Award, is already working hard on the brand new show in Rotterdam Ahoy. The show in 2017, to celebrate his 10-year anniversary and 30th birthday, was from start to finish a huge spectacle with sensational support acts, fireworks, LED screens and more surprises. On September 8th 2018, Rotterdam is once again taken over by Afrojack with special support acts and his fans. The support acts are announced in the upcoming months via Afrojack's social media. So make sure to follow Afrojackon Instagram, Facebook and Twitter

Tickets on sale as of Monday February 19th 12pm CET: afrojack.com/tickets

Minimum age 18 years.
Time

8 (Saturday) 22:00 - 9 (Sunday) 07:00
Location

Rotterdam Ahoy

Ahoyweg 10